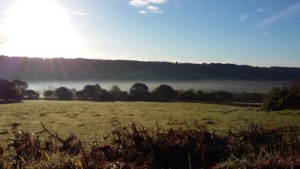 'Rest in Noble Silence.'
1 Day Mindfulness Retreat
17th March 2018
Join us as Spring arises to practise the quiet cultivation and the gentle art of Mindfulness.
A chance to be guided and supported through Mindful meditation, movement, and walking.

Giving yourself permission to experience the deep peace and stillness that silence brings.
This Mindfulness Retreat will offer us opportunities to find the space and calm in our lives that is often missing and re charge. A chance to connect with others seeking peace and balance and a time for quiet reflection, to see clearly how our lives really are. We do this by being kind to ourselves, slowing down and moving back from the need to find an immediate solution. We learn how to step out of 'doing' mode and rest into 'simply being' in the present moment.
This will be a small group, with availability limited to 15-20 people.
The Retreat is situated in a quiet, warm and spacious studio, nestling in the green Devon Hills above the village of Newton Poppleford, Devon. We are only 20 minutes from Exeter and 10 minutes from the coastal towns of Budleigh Salterton and Sidmouth.
A tasty home cooked vegetarian meal is included, along with drinks and fruit throughout.
Mats and meditation cushions are provided and chairs also. You may wish to bring a cushion and blanket, if you find yourself becoming cooler during practice, this is just personal choice.
The day will be a mixture of guided meditations, teachings and longer periods of silence. It will be led by Gavin Weir-Jones, a qualified and experienced Mindfulness Teacher and Psychotherapist.
Cost £80.
Booking here – https://www.eventbrite.com/e/rest-in-noble-silence-a-1-day-mindfulness-retreat-tickets-42080990375?aff=efbevent
Any questions please ask.
Warm wishes,
Gavin.